Table runners are a terrific way to "dress up" a kitchen or dining room table. They come in a variety of sizes designed for different length tables, and also have many patterns from which to choose. Table runners are perfect for adding extra color and texture to table settings and other types of furniture. Table runners can be used in many different ways and on different types of furniture.
Table Types
Table runners are traditionally used on dining tables. However, you can get creative with table runners and use them on all kinds of tables including:
• Patio tables
• Coffee tables
• End tables
• Nightstands
• Sofa tables
• Hall tables
They can work on any shape of table, including:
• Round tables
• Oval tables
• Rectangular tables
• Square tables
Placed Lengthwise
The most common way to use a table runner is to place the runner in the middle of the table, running lengthwise. This provides a perfect guide or path to keep multiple centerpieces or serving dishes in line. The runner can also be used to protect the table's surface from candle wax drippings, moisture, heat, food drippings and other debris caused by centerpieces, serveware or décor.

Placed Across the Table
You can also use slightly narrower and shorter table runners placed across the table in front of each chair. These runners can serve as placemats and can be used in addition to a lengthwise runner or without one. Runners placed across extra long tables can be used to separate each place setting.

Table runners used to separate each setting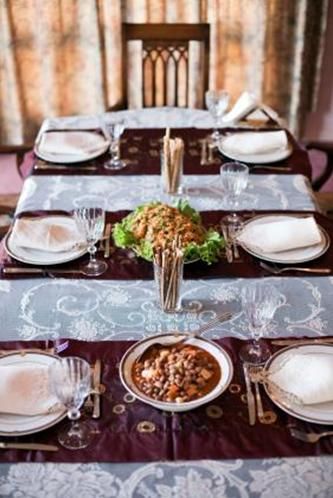 Runners Used on Other Furniture
Shorter table runners can be draped over a nightstand or end table for a splash of color and texture. You can also use table runners to accent other types of furniture such as a buffet, hutch, credenza, dresser or vanity table.

Use a table runner to protect furniture made with glass. Use one on a glass display case, console or coffee table when you want to display knick-knacks that might scratch the surface.
by Xiao Xiao xiaoxiao@interactchina.com

About Interact China
—————————————————————————————————————————–
"A Social Enterprise in E-commerce Promoting Oriental Aesthetic Worldwide"
Aileen & Norman, co-founded Interact China in 2004, specialize in fine Oriental Aesthetic products handmade by ethnic people and Han Chinese. With direct partnership with artisans, designers, craft masters and tailors, along with our 10 years solid experience in e-commerce via InteractChina.com, we position well to bring you direct finely selected aesthetic products sourced across China, in reliable quality and delivery, at reasonable price. We prefer individualization and personalized over standardized and automation, and will use our heart, as always, to serve ethnic artisans, cultural heritage successors, affectionate tailors and designers, as well as people who fond of and appreciate Oriental aesthetic.
So far we carry 2000+ goods covering 10 categories in Ladies Fashion, Tailor Shop, Home Furnishings, Babies & Kids, Musical Instruments, Tribal Jewelry Art, Wall Masks, Painting Arts, Textile Arts and Carving Arts. Our team speak English, French, German, Spanish and Italian, and serve customers wherever they locate.
—————————————————————————————————————————–
P.S. We Need People with Similar Passion to Join Our Blogging Team!
If you have passion to write about Oriental Aesthetic in Fashion, Home Decor, Art & Crafts, Culture, Music, Books, and Charity, please contact us at bloggers@interactchina.com, we would love to hear from you!